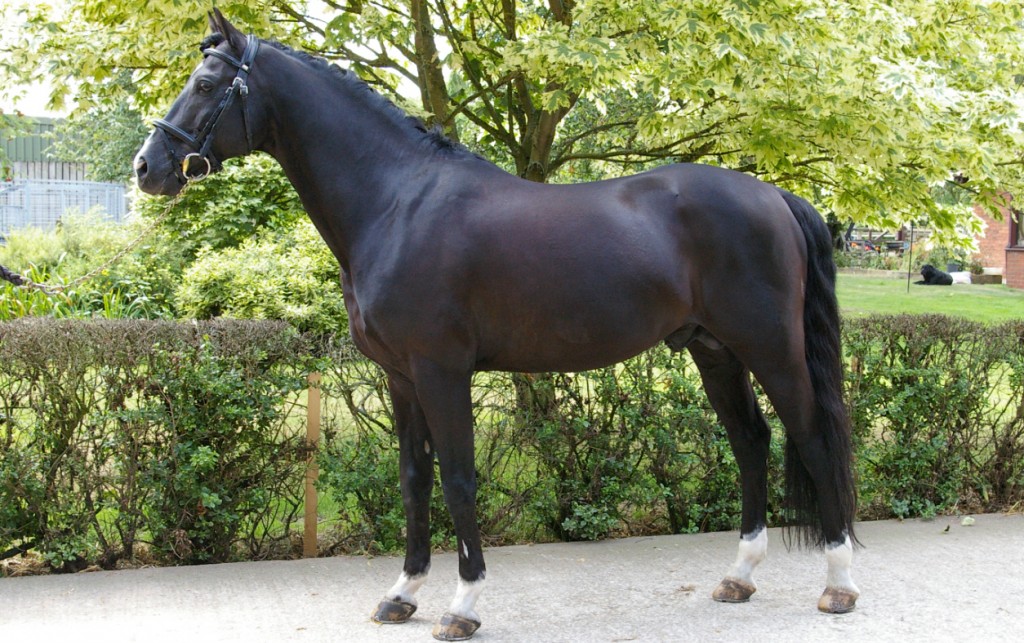 Stud Information
(The buttons at the bottom of this page will collate it into an information pack & nomination form, – it can then be printed out, saved to your computer as a .pdf or e-mailed to somebody else.)
---
Isobel Scruton

Tel: +44 7764 261349
Email: via Contact Page (click here)
To order semen contact stallion ai services – www.stallionai.com
email: tullis@stallionai.com
---
Terms & Conditions:
– Live foal guarantee (see definition below)
– Stud Fee: £850 – payable in advance and prior to shipping
– The stud fee covers one pregnancy only
– 2 doses ( = 2 inseminations) will be sent in the first consignment, thereafter
individual doses will be dispatched as required, at the mare owners request and
expense
– Discount offered for breeders inseminating two or more mares
– All carriage costs are paid by the mare owners
– All unused straws of semen remain the property of the stallion owner and must be
returned to Stallion AI Services, before October 1st that season at the mare owners
expense
Live foal guarantee covers:
– the foal's birth and up to the first 48hrs of life
– if the mare aborts for any reason or the foal is stillborn, you will receive additional
semen as per the original consignment agreement, until the mare is tested in foal
– If your mare dies in foal, providing there is no case of negligence proven, you may
substitute another mare
– If your mare is not in foal on October 1st, you may substitute another mare
– The breeding agreement is not transferable
Embryo Transfer:
– If the inseminated mare produces two (or more) viable embryos for implantation, if a
heartbeat is detected in the second and/or other at the 42 day scan, an additional 50%
stud fee becomes payable for each additional embryo.
---
Stud Farm Fees
R L Matson & Son Tel: 01948 664966
Twemlows Hall Stud Farm Fax: 01948 663836
Whitchurch Mobile: 07860 770801
Shropshire Email: edwardmatson@twemlows.co.uk
SY13 2EZ www.twemlows.co.uk
VAT: 278 4516 26
---
Fresh Semen Collection Fee: £85 per AI collection (+ VAT) Invoiced on behalf of Stallion AI Services Ltd for mares being inseminated with fresh semen only
Frozen Semen Handling Fee: £22 per AI (+VAT).  Invoiced on behalf of Stallion AI Services Ltd for frozen semen stored with them
Foaling Fee: £310 (+ VAT) (Mares must be booked in well in advance)
In Foal Fee AI Mares: £145 (+ VAT)
In Foal Fee ET Recipient Mares: £185 (+ VAT)
Veterinary Package Fees
AI/ET Fresh & Chilled Semen: £210 (+ VAT) per AI cycle
AI/ET Frozen Semen: £305 (+ VAT) per AI cycle
Synchronisation of Recipient mares for ET: £125 (+ VAT) per recipient mare per AI cycle (minimum two recipients per donor). Recipients may be maiden or barren mares
Embryo Transfer flush & search: £220 (+ VAT) per flush
Non-surgical transfer to recipient mare: £145 (+ VAT) per transfer
ET Recipient Loan Mare Hire: £1500 (+ VAT) for 18 months (or until foal is weaned)
ICSI / OPU: Price on application
Fetal Sexing Scan: £56 (+ VAT)
Embryo Freezing: Price on application
---
Veterinary Contract:
Mares will be accepted at an 'all in package' to cover routine veterinary reproduction work at Twemlows Stud Farm. Routine includes scans, call out, drugs and one PD scan at 15 days, a second scan at 28/30 days and a third scan at about 42 days; it does not include swabs, twinning, caslicks, lavage etc and the treatment of mares with endometritis and other non routine matters, which if relevant are invoiced separately.
All in foal mares need to have a 28/30 day and 42 day PD scan to confirm a single viable and healthy pregnancy; if mares leave the stud before the heart beat scan it is the owner's responsibility to arrange for this to be carried out.
---
Charges for a range of miscellaneous items, which will not apply to all mares, are available on request.
Mares and foals whilst at the Insemination Centre receive every possible care, attention and supervision. Veterinary assistance is called in when deemed necessary and is chargeable to the owner.

All fees must be paid before the mares leave the stud

Mare owners who send a third party to collect their mare must make arrangements to pay in advance of collection.
---
NOMINATION FORM
https://rembrandtddh.com
Nomination Agreement for Artificial Insemination 2020/22

I………………………………………………………………(Block letters please)
Agree to take a nomination to Rembrandt ddh for 2020/22 at an agreed stud fee of    £ …………
Address……………………………………………………………………………………..
………………………………………………………………………………………………
Postcode…………………………….Tel.No……………………………………………….
Mobile………………………………Fax.No………………………………………………
Email………………………………………………………………………………………..
Mare's Details:
Registered Name……………………………………………………………………………
Stable Name…………………………         DoB…………………………            Breed……………………..
Sire……………………………………..         Dam…………………………
Height…………………………………         Colour……………………….          Studbook Reg………..
Breeding Record:…………………………………………………………………………………………………
Competition Record …………………………………………………………………………………………..
Is the mare: (Please circle)
In foal      Foal at foot      Barren Maiden
If foal at foot, please give DoB and Sire  …………………………………………………………
Approximate date of due insemination ………………………………………………………….
Name & Address of insemination centre/vet:………………………………………………….
Tel No: ………………………………
I agree to: *Paying the stud fee of in full, prior to the above mare being inseminated and to all
the terms and conditions set out on the studcard.
*Live foal guarantee terms.
*Return of unused semen to Stallion AI, Twemlows Hall
*That this is only for one pregnancy (See terms and conditions) and to the payment of all carriage costs.
*in the event of embryo transfer, if my mare produces twin or multiple viable embryos which I choose to implant, then I agree to pay an additional 50% of the stud fee per additional embryo, which is payable at the time of the 42 day scan.
I will be paying by BACS.           I attach my cheque for the full fee. (Please delete as necessary)
Please send this nomination form together with stud fee to address above.
Signature…………………………………………………………….                                   Date……………..